Claire Reilly of Grand-Y-Care Academy in Lanark, Scotland writes…
At Grand-Y-Care, we are passionate about how we can best support the development of all children in our care while facilitating fun child led play experiences. Afterall, what setting or school isn't? However, we wanted to move beyond the sound-bites and rhetoric to create systems and processes that would:
Truly personalise the support that we provide to each individual child;
Optimise how can we can engage and involve all of the stake holders in each child's development
"Capture" all this and document development and progress in one place and in an easily shareable format.
Here is an overview of what we've put in place to try and achieve our vision…
We invested in the Evidence for Learning app at the end of the last year after a short trial and have been using it across the setting since the start of the current academic year (Autumn 2015). Each senior staff member has an iPad which they are responsible for with the 'Evidence for Learning' app pre-installed and set up.
Target setting… involving parents
At the start of each 3 week planning period (babies and toddlers) and 6 to 8 week planning period (young children) we use the Evidence for Learning app to create and share with parents an individualised development plan for their child. (see Image – link to download)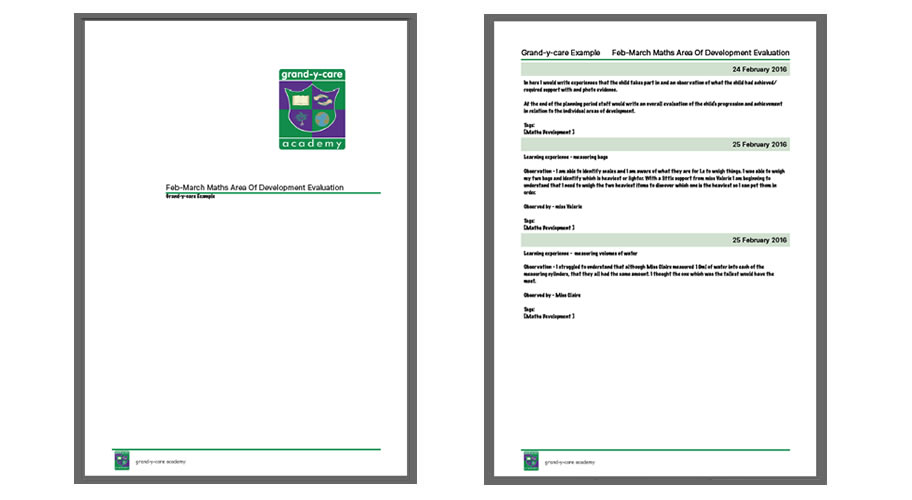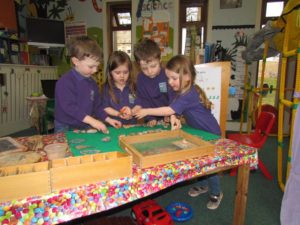 For each individual child, this lists:.
The Areas of Learning and Development (in Scotland, that is the Experiences and Outcomes from "Together We Can" and Curriculum for Excellence) that we will be focusing on during the coming term
Some of the activities and experiences that will help the child achieve success in those areas
Children's thoughts and views on what they would like to learn and experiences that they would like to take part in
Opportunities to look out for and do at home
Because working collaboratively is important to us, we ask our parents to give us their feedback on the plan, and to effectively 'sign it off'. Parents are invited to suggest any areas that they would like us to work on with their child.
Our goal is to inform the parents, as well as engage, encourage and work with them in the process of helping their child to succeed – we have effectively created a team approach.
Recording and evidencing progress
During the course of the term, our staff gather daily observations of the child during their 'play' using the Evidence for Learning app. We record significant observations and any notes on next steps and areas of development for the child.
The Evidence for Learning app has made this whole process much more efficient and enjoyable for the staff, as they can use one device to do everything and all the information, evidence and notes live in one portable place.
Systemising assessment, tracking and moderation
From a management perspective, the benefits have gone further – the app has helped us to systemise a lot of our processes. Our staff are fantastic and highly-skilled and experienced at working with children – when it comes to the paperwork however, there just wasn't enough hours in the day to record all the children's observations.
Before Evidence for Learning, it was a challenge for the nursery supervisor and manager to effectively monitor staff's daily observations and photo evidence.
Now our manager and supervisors are able to access the Evidence Cloud whenever they like to moderate staff's work. They can instantly access any of the hundreds of observations and notes that are being made every week. No more running around the rooms collecting these!
Reports and keeping parents updated
At the of each planning period, children's individual profiles are produced as PDFs using the app. Each child's document incorporates photos and observations from staff and comments from parents showing how they've progressed within each of the targeted areas of learning.
In addition to the planning period reports, we also produce for each child a monthly report that details any additional achievements (see example – photos have been removed for privacy reasons) they may have experienced during that month.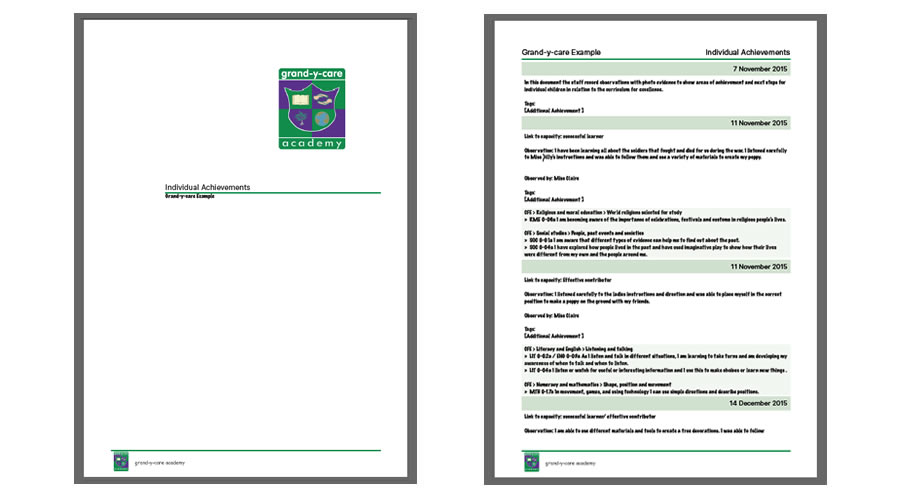 Also included is a section dedicated to the child's wellbeing which shows how children are progressing in relation to the MyS.E.L.F (South Lanarkshire Council's My Emotional Literacy Framework), Healthy resource pack which helps staff plan experiences to enable children to be Safe, Healthy, Achieving, Nurtured, Active, Respected, Responsible and included, and the physical connections pack to cover additional Health and Well-being outcomes of the curriculum.
Again the app allows us to produce dozens of these reports, automatically at the simple touch of a button.
We are always keen to give the parents as much access as possible to the experiences their children are enjoying. When we have fun days such as swimming lessons, forest skills, toasting marshmallows on the bonfire or Chinese New year celebrations, we send a montage of photos and information to the parents at the end of the nursery day/week using the document-maker tool in the app.
Training staff and creating practice guidelines and policies
We trained 3 to 4 staff in the first month and a half when we first introduced the app and the new processes as a soft rollout. We then developed and refined those processes into a set of guidelines and policies for all staff to follow when making observations and gathering evidence. (see image and downloads)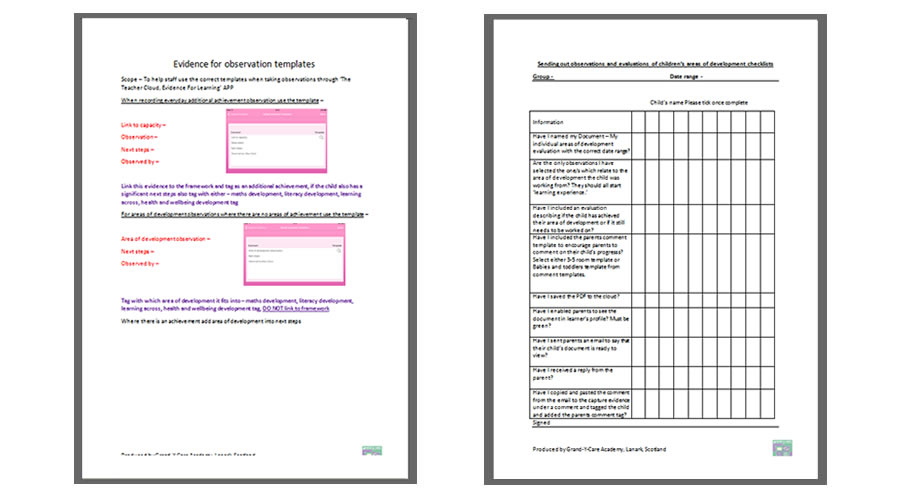 Downloads:

 Sending out areas of development observations and evaluation.docx

 Evidence for Learning template guide.docx

 Sending out additional achievements checklists.docx

 Evidence for Learning policies and procedures.docx
Our team know that observations should not be repetitive – they should be high quality with sufficient and relevant notes along with quality visual evidence.
We look for 15 quality pieces of evidence to show and support each area of learning. The Grids in the app help staff to stay on top of this and watch for gaps.
Our staff and leaders are not allowed to do any paperwork whilst in the room with children so this essential part of the assessment and reporting process requires us to bring in additional staff to cover – so the longer this takes, the greater the cost. This is one area where Evidence for Learning has saved us a lot of money. At the end of each planning period/month each room supervisor checks all are up to date with the essential information. Using the app reduces this time considerably.
I hope it has been useful to read about our experience and journey so far. We're happy to share some of the documentation that we've created to help us deploy the app effectively. Feel free to use and adapt the documents. We'd love to connect and share with any preschools or schools that are interested. Please feel to get in touch…
About Claire Reilly and Grand-Y-Care Academy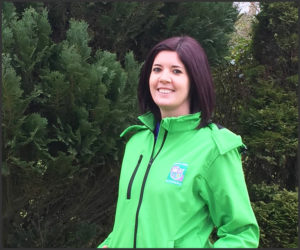 Grand-Y-Care Academy is a private family-run Early Learning and Childcare Centre, established in 1997. It is situated in Lanark, South Lanarkshire; within walking distance of Lanark Loch and a 5 Minute drive from the local farmer's market and historic New Lanark Mill.
We employ 14 childcare professionals who accommodate at present 4 babies, 14 toddlers, 22 young children and 32 Out of School Care children on a daily basis.
Claire Reilly is the Early learning and childcare centre Supervisor and Head of the young child's room, she is also a qualified Forest School leader and has worked at Grand-Y-Care since 2002. For more information, please look at our Facebook page – https://www.facebook.com/GYCEst97
Summary
Article Name
BETTER QUALITY data... INCREASED parental engagement and involvement... but LESS paperwork
Description
This article looks at how Grand-Y-Care Academy, an early learning and childcare centre in Scotland, has reduced staff paperwork, yet has increased transparency of information sharing and has improved parental engagement and involvement using the Evidence for Learning formative assessment and reporting app.
Author