Sally Churchill, Deputy Headteacher at Saxon Hill Academy in Staffordshire, UK writes…
Ofsted requires us to be able to demonstrate what we know about each of our learners, their needs and what progress they have made. As a school, we need and want this information in order to provide for each learner the highest level of personalised support.
For many of these children and young people, recording their own work is extremely challenging and sometimes not possible at all. It's therefore critical that we as professionals can make and record on their behalf, accurate and very clear observations, reflections and evaluations about their developmental progress – especially capturing those significant moments.
At Saxon Hill Academy towards the end of last year, we decided to investigate how technology might help us to improve the effectiveness and quality of our assessment processes and reporting across the whole school, and also to make some of the tasks easier and less time-consuming for our staff and teachers.
We came across the Evidence for Learning app and following a short trial, our SLT decided to move forward with deploying it across the school at the start of the 2015/2016 school year. The app has proven to be extremely useful, providing us with many of the benefits we were seeking, plus it's also had an impact in other areas that we hadn't expected. Here is where we've got to after only a few months…
How do we use Evidence for Learning within school?
In each class we typically have a ratio of 4 adults to 10 children and there is usually 1 iPad for the staff to share. The iPad has the Evidence for Learning app installed and setup with the priority targets, frameworks and learner profile information for each learner.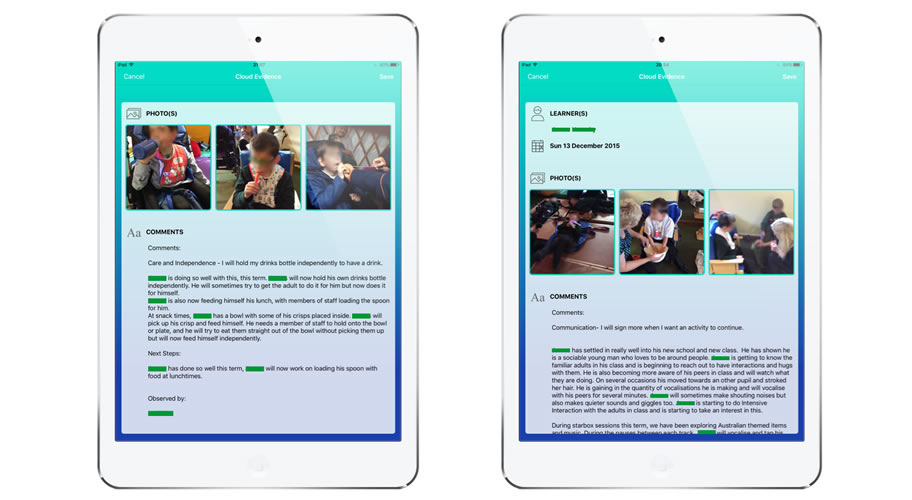 As significant moments occur throughout the day, staff use the app to capture visual evidence; assign it to the relevant learner(s), and at the same time use post-it notes to record notes and observations. Any handwritten notes are placed in the student pockets on the classroom wall and are written up as comments and added to the app later – either at the end of the day or during planning time.
We feel it's important to use a blended approach of using an iPad with the Evidence for Learning app and handwritten post-it notes in order to make the most of the dynamic nature of the learning environment – so we don't waste vital contact time with record keeping. All staff participate in the process so that we get a 'rounded view' and a useful level of self-moderation within the group.
Once everything is consolidated into the app, we then have over time, an extremely useful body of information including observations, reflections, and crucially, the evidence; all chronologically organised in a single, portable and shareable online location and available to support our formative and summative assessment and planning for each learner.
We encourage the evidence gathering to be on-going and we don't specify how many pieces of evidence should be gathered each week. Instead we encourage the staff to capture evidence whenever they think it's relevant and important. In fact our only policy at this stage of the app's rollout, is that staff should not repeat the same observations and evidence. Again, we're looking for those significant moments – which can often be subtle or very small steps.
Assessment and reporting
Over the course of the first term of using the Evidence for Learning, we quickly built up a burgeoning portfolio (learner profile) containing observations, thoughts and evidence for each learner all tagged to each child's individual priority targets – providing a very insightful narrative and picture of each child's development.
At the end of term the staff were able to easily review the learner's profile and use the app to generate and produce a thorough report. We decided to write the end of term report as a series of 4 observations within the app – one for each of the child's priority targets. Teachers pick the 3 photos that they feel best demonstrate the progress made by the learner; and then using the 'Comments' tool, they write a comprehensive summary taking into account all previous observations and notes captured within the app.
These 4 'summary' observations are then used to generate a formatted PDF learning journey for each child using the document-maker tool in the app – the process takes only a few seconds. This report is then shared with parents and is also kept on file and will contribute to the preparation of the child's Annual Review at the end of the year.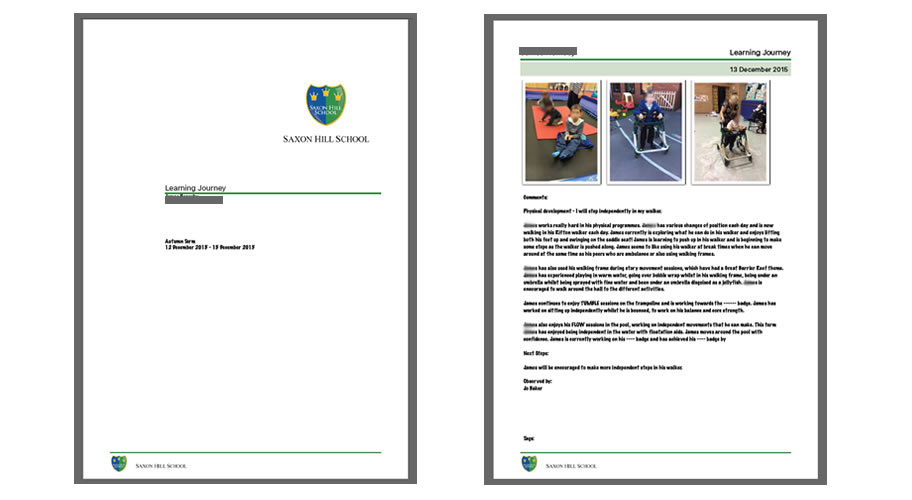 It's probably worth mentioning that we're also using the app with our emerging (SLD) and developing (MLD) learners, although the approach is slightly different and probably more in line with how the app might be used within a mainstream setting.
Success indicators
It's early days of course, but already, after only a few months, we've seen a positive impact from using Evidence for Learning across a number of areas within the school.
The app is certainly helping us to make and gather higher quality observations more easily and more efficiently – at the point where the significant moments happen – especially for our sensory learners.
Members of staff have found it straightforward to use and incorporate into their daily routine. We ran a single training session to introduce them to the app back in September 2015, and have not needed to provide any follow up training. The roll-out has truly been a surprisingly smooth experience – in fact it's hard to recall other occasions when new tools, resources or approaches have been introduced to the school with such little resistance and with virtually no teething issues.
Benefits for professional development and systemisation
Through the app, all teachers are able to look at how other members of staff are using it, and more importantly they can see the observations that are being made in other classrooms. We think this collaborative and sharing approach can help with staff professional development, as well as helping with moderation across the school.
On the Senior Leadership Team we see this as a big plus.
The app is helping to systemise a high-quality and consistent approach to assessment across the school, as well as providing useful insights to support a continual review of our approach – helping to ensure that we're always addressing the needs of our learners in the best way possible.
Informing and delighting parents
The parents of our learners love the new learning journeys: the visual aspect with the photographs alongside teachers' comments helps to present not only an informative picture of their child's development, but one that is engaging and often quite emotive for the parent. It enables us to share many of the significant moments in their child's development.
As parents who have had to endure more than their fair share of various agencies informing them of what their child cannot do… with our colourful photo-packed, learning journeys, it's wonderful to be able to share and celebrate with them what their child can do!
Finally, the children clearly enjoy the fact that their teachers are using iPads to take photos and celebrate what they are doing. Many of them love being the 'star' of their very own learning journey and story.
Next steps
At around the 8-9 month mark, we intend to use one of our staff meetings to have a thorough review and discussion about how we've got on with the app and any ideas for how we might evolve our use of it. We also plan to use this session to agree a minimal set of policies/guidance principles for how the teachers will use the app.
Overall it's been an exciting and an enlightening journey and we're looking forward to where we can go with this in the future. I hope it has been useful to read about our experience. We'd love to connect and share with any schools that are interested. Please feel to get in touch…
About Sally Churchill and Saxon Hill Academy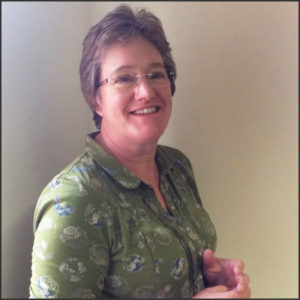 Saxon Hill Academy is a special academy for children and young people with physical disabilities and complex medical needs aged between 2 and 19 years. It is also one of four schools commissioned by Staffordshire to provide the Physical Disability Support Service, an outreach service supporting inclusion for children with disabilities in mainstream schools.
The school offers a residential, short-breaks provision called Sleepover Club, which has been judged to be outstanding by Ofsted for many years. (http://www.saxonhill.staffs.sch.uk)
Sally Churchill has worked at Saxon Hill for 16 years and has been Deputy Headteacher for the last 6 years.
Summary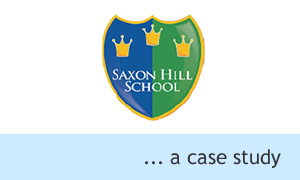 Article Name
How do we best meet the needs of our sensory (PMLD) learners?
Description
Saxon Hill Academy has been using iPads and an formative assessment app (Evidence for Learning) with PMLD (sensory) learners. In this article, the Deputy Headteacher shares their journey and experiences during the first 4 to 5 months.
Author