Introduction
This Tutorial was written for EfL 4.5
Start sharing PDF documents with your parents via the secure web-based Parent Portal.  This was known as Parent Access in previous versions of EfL.  So, if you were using Parent Access with a previous version of EfL, this is the same service, it works in the same way except you now have a master switch to switch it ON or OFF across all devices using the cloud admin password.
As with all Parent Services anything shared can only be seen by activated parent accounts.
Easy to use, turn it on and begin sharing files with parents, you have control over which files are shared with which parents.
Step 1 – Turn it on
From the Cloud Admin Menu choose Enable Parent Services.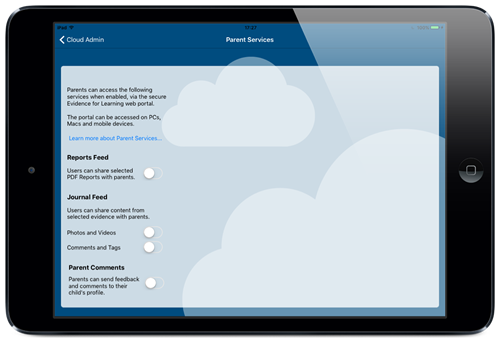 Switch on Reports Feed using the switch on the right hand side to turn on the service.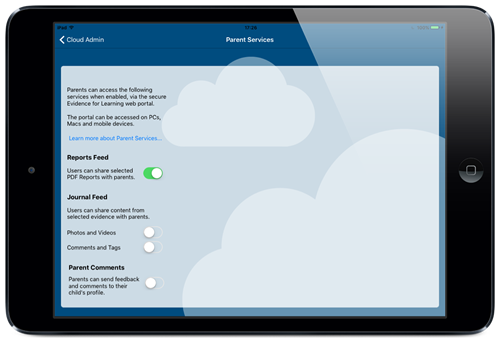 Step 2 – Share Documents
Now in the Cloud Profile for a learner you will see the option to share documents with the parents.
Tap the grey button to share the document.  Remember if you want to check it you can open the document first.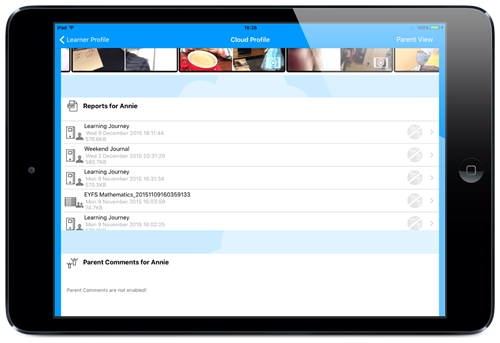 The Blue parent indicator tells you the document is now shared with parents.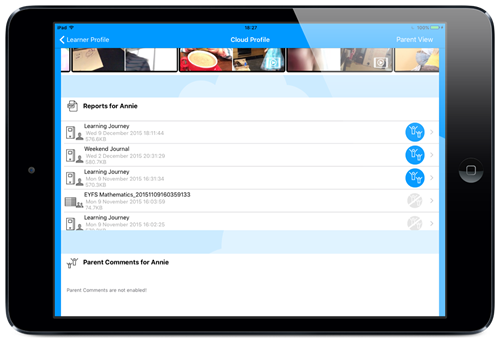 Step 3 – Check with Parent View
If you tap the Parent View link in the top right you will be taken to a screen that shows you what the parents can see if their accounts are active.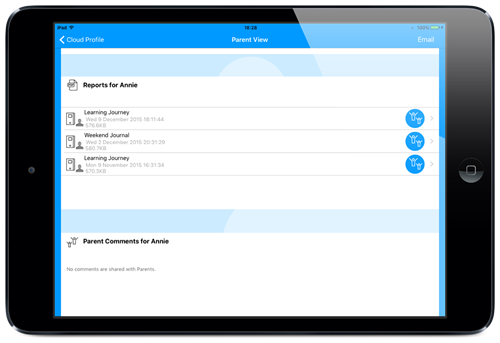 What the Parent will see
And this is what the parent sees…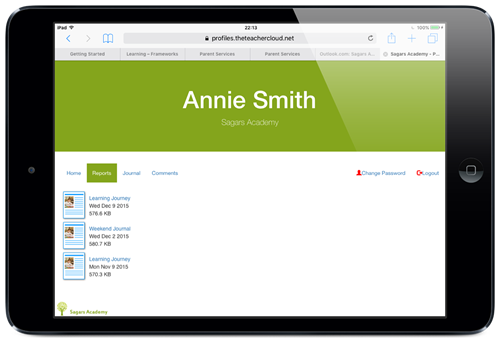 In case of Emergency
If you need to quickly hide a document that you have shared you have a few options…
You can stop sharing the document itself (do this in the learner's cloud profile).
You can deactivate the parent account to block all services for that parent.
You can switch OFF the Reports Feed in the Cloud Admin, this will apply to all parent accounts.
Notes
You will notice you can't accidentally share documents that have information about other learners.
As with all parent services, this is real-time sharing.  If a parent is currently logged in to their parent website and you withdraw sharing permission the parent will immediately cease to have access to the file.
If you delete a PDF from the learner's cloud profile, it will be deleted from the parent's Report Feed too.
What now?
Please take a look at the articles below for further information on how to use the parent services…
Need Help?
If you have any problems please don't hesitate to get in touch via our Contact form.
Summary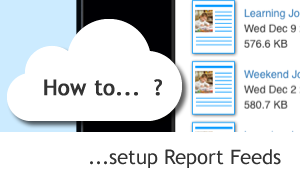 Article Name
Evidence for Learning Tutorial: Using the Reports Feed
Description
Tutorial: This blog will step you through the process of using the Reports Feed for Evidence for Learning
Author