Introduction
This Tutorial was written for EfL 4.0
When activated as a Cloud Subscription, Evidence for Learning (EfL) can be set to work in one of two roles: "Administrator (Data Entry)" (Administrator) or "Educator".  In a nutshell the difference is… use the Educator role for everyday use of the app (i.e. capturing evidence day to day, making documents,etc…) and use Administrator role when you need to add new System Data to the Cloud.
Administrator (Data Entry) Role
The Administrator role should be used when you need to add new System Data to a device that doesn't originate from your Cloud.  The Cloud Admin would typically set a device to this role to add or import learners, tags and other system data to the device, once on the device this System Data can be uploaded to your Cloud for all to use.
Try to avoid 'leaving' the device in Administrator role.  To help indicate that it's in Administrator role, the device switches to a black and white theme and features that educators would usually use such as capturing evidence and making reports are not available.
Here's the Cloud Admin menu after the device has been switched to Administrator role showing a black and white theme.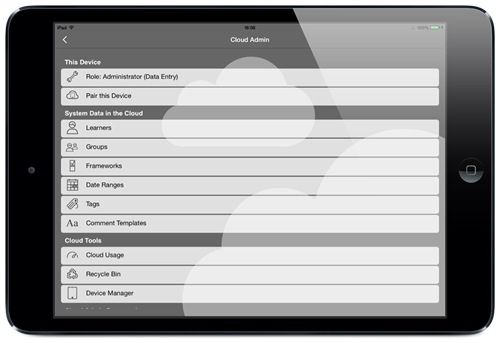 When the device is set to Administrator role, adding learners to the device will prompt you to choose 'Add a Learner', 'Import Data' or 'Add from the Cloud'.  Otherwise, when not in Administrator role the device won't give you that choice, instead it just opens a screen showing the groups/learners in your Cloud.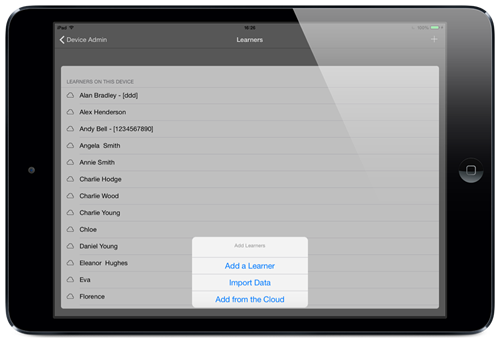 Educator
The Educator role is the default role that most devices in a Cloud Subscription will be set to during day to day use.  Whilst in Educator role you can only add System Data that has been setup in your Cloud.  Adding new data directly to the device that doesn't originate from the cloud is not possible and you'll notice the key capture and make report features are enabled and the theme has colour rather than black and white.
Here's a sample screen showing the Cloud Admin menu in Educator Mode with the theme set to Blue.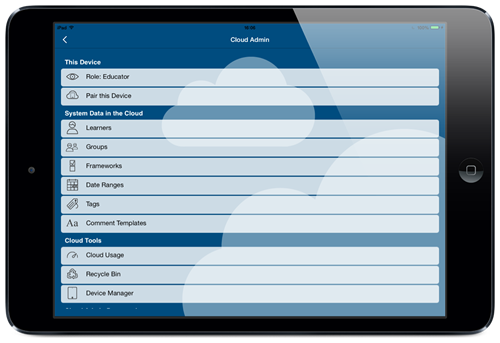 Need Help?
If you have any problems setting up your Cloud please don't hesitate to get in touch via our Contact form.
Summary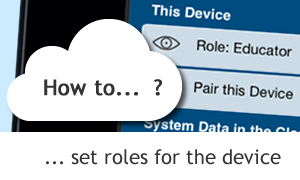 Article Name
Evidence for Learning Tutorial: Administrator and Educator roles
Description
Tutorial: If you have a Cloud Subscription, you'll want to add data to your Cloud, first you need to get it onto a device. Setting the role to Administrator allows you to do that...
Author